It's Good to be King
Administrator
Jun 5, 2014
35,668
92,014
This could be long, so
@NVGator
, just don't read it if you don't want to.
November was appointed by me "Gatorchatter Donation Month" a few years ago, but I'll admit I'm having a harder time this year asking for anything. It's been a bit of a stressful year for me, and in hindsight, there were times I think I took it out on the membership unfairly.
Gator football is supposed to be a stress relief, something that makes us happy away from the challenges of our jobs, families, etc. However, the last decade+ has been brutal in that regard. Since Gatorchatter was created in June of 2014, the Gators haven't ever seriously challenged for the SEC crown, much less a NC. Not only that, it's been mostly hideous football run by hideous coaches who took their millions on their way out the door, further rubbing salt in the wound. During this time, apathy for the program has grown. People are finding other things to do with their time, becoming more casual fans that may not even watch the games or if they do, have little to no emotional connection to a win or a loss. Only the hardcore remain on sites like this, and our numbers are dwindling.
When Billy Napier was hired, I was excited because I felt he could rebuild the program from the ground up. He was not the kind of coach that you jump up in down with excitement at the news of his hire, however. He came in only after demanding (and getting) the things we had wanted for years, such as a monster staff to rival what other schools were doing.
Not everyone shared my optimism. As a fan base, we had been put through the wringer and beaten over the head with bad coaching, while rivals like UGA built powerhouses. While I was coming here to escape the relentless, 24/7 negativity from my day job, I found myself dealing with it here too, from fans that saw absolutely nothing positive about the hire. Instead of pulling back a bit and continuing to let everyone vent (which is pretty much all Gatorchatter has ever been), I grabbed members and put people in my "mind camp" to try and get a little optimism out of them.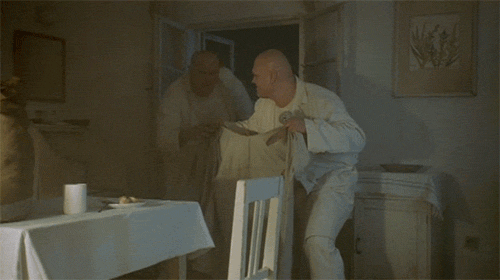 It pissed some people off, and I get it. We've always been known as the renegade board, the debbie downers of the Gator message board world. However, we always turned out to be right, didn't we? I nurtured that board personality for years, and now I was trying to pull back on it. Some of you probably thought I was nuts, some were just ticked, some left. I think I was just looking for more optimism in my personal life, I think you change as you hit middle age. When you first met me back in 2007 on the GSMB, I was a snot-nosed 31 year old who loved the drama. I think I love the drama a little less every day that passes. If I had to do it over again, I think I'd be less heavy-handed and simply walk away from the keyboard more.
@Durty South Swamp
gave me a talking-to about it and I took it to heart. He has no idea how much respect I have for him and the many like him who have posted alongside me daily for 15 years.
Since I first started perusing message boards in 1996 or so, the LAUGHTER has always been the most important part, and it still is today. The core group is FUNNY, and that's what we all need. The stupid mom jokes, the memes, the digs at each other. When things don't get funny anymore, that's when people drift away. Always try and be funny, boys and girls, even if UF loses 30 games in a row. We need laughter to survive in this life.
We lost cooter last year and rog this year, and there are two examples of hilarious personalities that can never be replaced. Swamp Donkey, our biggest poster for years, decided he needed to pull back from the stranglehold this site seemed to have on him. These are all losses that are felt, it's been rough.
Gatorchatter revenue has remained in the toilet since COVID-19 hit, and it's only getting worse. We've got a bumpy next couple of years economically coming, and companies are spending less money than ever on online advertising. The $ amount for ad views has dropped significantly. For example, if 10,000 pageviews would get you $10 in 2018, those same 10,000 are getting you perhaps half that now. Disposable income has crashed nationwide due to inflation - every single one of us is getting poorer right now. I understand people not donating some of their hard-earned to sports message boards during this time.
The core membership has donated plenty of money over the last several years to make up for a lot of that. I am humbled by the dollars people will throw at Gatorchatter, usually out of the blue and totally unsolicited. Many of you have given over and over and over, and you should never feel like you are obligated to keep doing it.
So, here's my annual pitch anyway. If you hate the idea of donating just to donate, there's another option. Lifetime memberships are on sale until 11/30 for $50, and assuming you already have one, consider buying one for someone else. There are still dozens of members that have been around for years that don't have one. Just let me know when you donate what member you would like to help - you can do it anonymously if you wish.
You do actually get something in exchange for becoming a supporting member. Perks of becoming a Gatorchatter Supporting Member:
1) No ads, ever. On the desktop, on mobile, even on Tapatalk.
2) Cool "Supporting Member" banner under your name.
3) Access to the private Saloon section, where the rules are loosened just a bit.
4) Access to the Political Forum.
5) Access to the chat box archives.
6) My perpetual love.
7) You won't have me harassing you anymore about becoming one (but I'll still harass you for money).
When you're ready to take the plunge, simply click the "DONATE" tab at the top of the screen and follow the prompts. If you refuse to use Paypal for some reason yet still want to give, you can email me at
[email protected]
.
In all seriousness, thanks for being here. For the first time in Gatorchatter history, I really do feel the future of Gator football is bright,
Discuss.