It's Good to be King
Administrator
Jun 5, 2014
33,540
81,445
Thought I would point out some new features that you may or may not have noticed, and how they work. Make sure everyone goes to their preferences and looks at everything. For example, there are a ton of notifications you are going to want to set.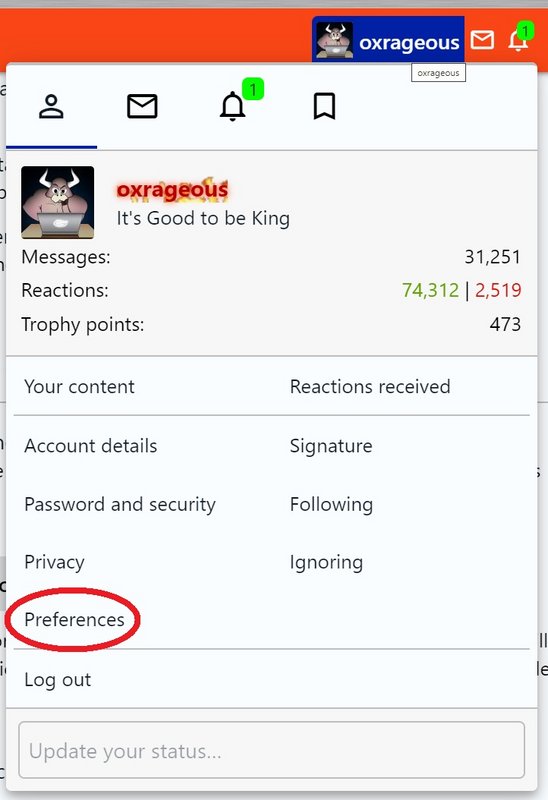 1)
A reminder that there is a "Dark Mode" for Gatorchatter - about 15% of our people prefer it. At the very bottom of the page is a dropdown where you can select Dark or Lite mode.
2)
The floating circle on the bottom right is our new quick navigation menu. Unfortunately, the one we always used along the left side is not available for X2, and this is the best we have for now. I'll be looking for alternatives as time marches on. Maddeningly, you have to click around the edges of the circle for it to open up - hitting the dead center does nothing. After it's opened, clicking anywhere else on the page will close it. If you don't want this option, it can be removed in preferences.
As a left-hand-side alternative, there is a quick nav menu under "HOME" in the top nav bar. You can see it just by hovering over it on desktop, so you don't even have to have an extra click.
3)
If you want to quickly start a thread in any area, there is a bar along the top of the forum list. When you click in that, the edit box opens under it and you can start typing. If you change your mind, clicking "cancel" in the lower right will close it.

4)
In the bottom right of every post next to the "Reply" button, you see that posters name there. That is a tag function, which tags that poster into your reply box. In other words, click "Reply" to quote them, click their name to tag them. This is in case you would rather just tag them then quote their post. It's a great way to reply directly to them without having to type the whole "@" thing. The user normally gets a notification if they are tagged, unless they have that notification switched off.

5)
Android Users:
You can enable push notifications on your phone, which would alert you like a text message when you get a PM, for example. In preferences, there's an area to approve push notifications. Unfortunately, Apple has not provided support for this at this time for the iPhone folks.
6)
Giphy support: Now in posts and in the chatbox, you can click on the "GIF" option on the editor bar and search for the perfect gif to enter into the box.
7)
As discovered by
@DocZaius
, you can edit your background on your profile banner. Go to your profile page and click "Edit Profile Banner" in the upper right hand side at the top.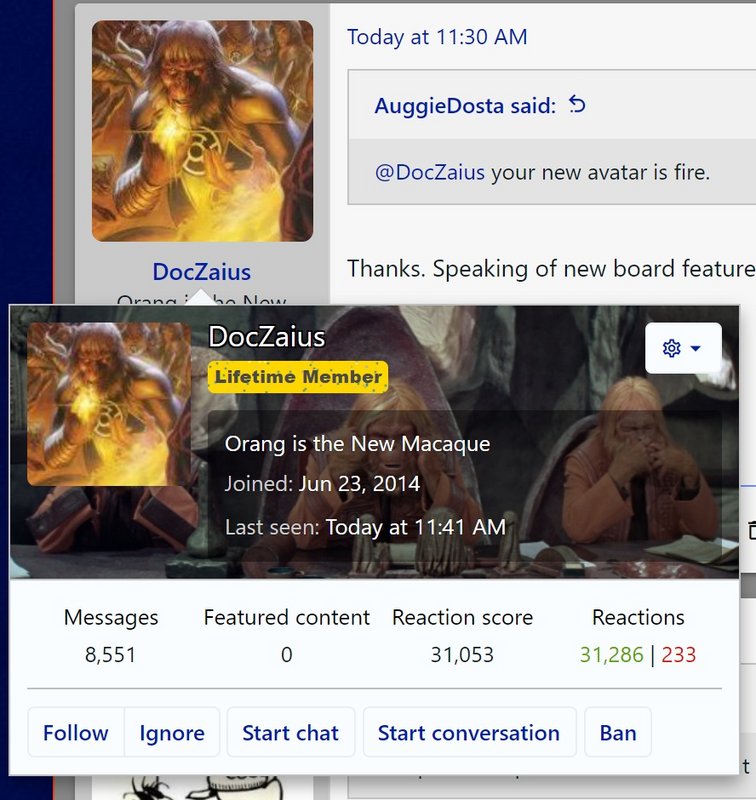 8) Added a "return to top" arrow in every post on the upper right. Clicking that will take you to the top of the page.

More to come.