Dumbfounded
Lifetime Member
Aug 28, 2014
15,711
23,999
This Wednesday at 4:33PM a SpaceX Falcon 9 Rocket will launch a Crew Dragon capsule from KSC launch pad 39A carrying 2 astronauts for a rendezvous with the ISS marking the first time since the shuttle that America has the capability to launch humans to space. For the last nine years we've had to hitch a ride on a Russian Soyuz rocket.
Facts you may not know about the mission:
1) The Dragon is not your granddaddy's crew capsule: The capsule is spacious, easy to enter and exit, and controlled by touch panels. Crew Dragon can carry seven passengers but will rarely carry more than four.
2) Crew Dragon can land propulsively (but it won't).
The Crew Dragon's abort motors are built into the capsule as opposed to the launch abort towers that you normally see: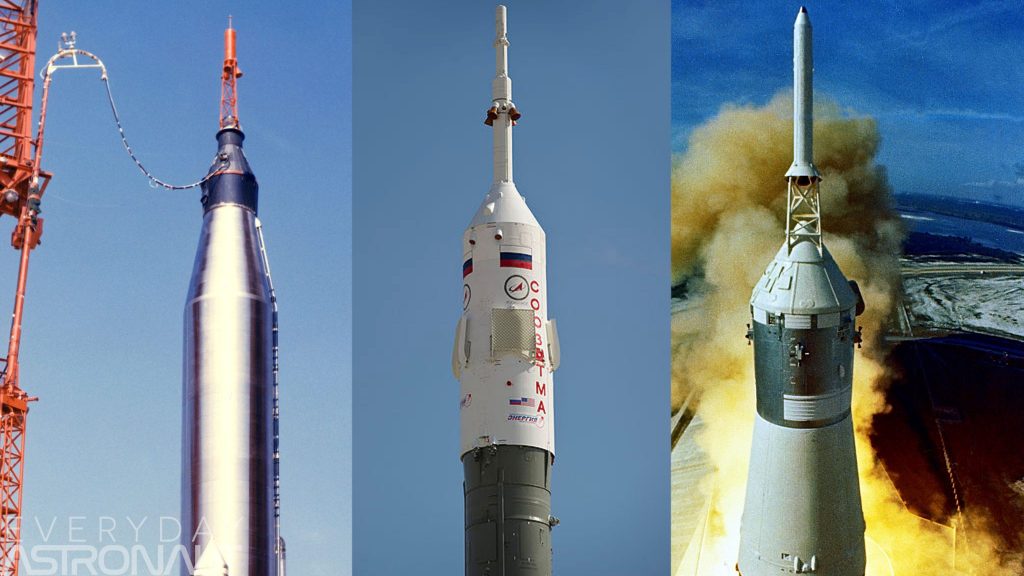 In addition they are not using solid rocket motors but instead are using liquid fueled engines. Because of that the engines can be precisely controlled which is needed for propulsive landing. However it does take a little more time and money to qualify the spacecraft. Instead they will land in the ocean under 'chutes just like the old days. The capsule will then be reused for unmanned cargo missions. But this is how it would have looked.
3) SpaceX has been flying cargo missions to the ISS for years. All they had to do was modify the Dragon for humans.
4) SpaceX is cheap: A shuttle launch cost close to $2B but of course it carried more cargo. We currently pay Russia $86M per seat. Boeing, if it ever flys, will charge $90M per seat. SpaceX however, is doing it for $55M per seat.
5) SpaceX has been busier than you know: This will be their 94th mission and the 86th for a Falcon 9 rocket. SpaceX has launched 36 times just this year. Of course those rockets land and are reused.
6) Of Course I Still Love You: The landing barges that SpaceX uses have strange names. In addition to OCISLY that will recover this booster they also have the "Ms. Tree" and the "Ms. Chief". Depending on the ascent profile the boosters can land back at KSC or if a more energetic launch is required the boosters land down range on these barges. The downside of landing downrange is....
7) Weather: The ascent will follow a course up the east coast that matches the inclination of the ISS orbit*. Because of the need for calm weather in order to recover the booster or a capsule in case of an abort the weather will need to be clear all the way up to Nova Scotia. So even if the weather is beautiful here in Florida we could still get a scrub because of down range weather.
8) Whatever happened to Boeing?: NASA awarded contracts to Boeing and SpaceX to deliver six missions each to the ISS. However Boeing failed it's uncrewed test mission. It could be 2 more years before Boeing can launch a crewed mission so in the mean time SpaceX may be getting those missions. Keep in mind that Boeing also got an additional $270M because at the start of the program they said that SpaceX had a head start.
9) I'll be there. I lived in Orlando during the Apollo missions so we could watch from our backyard. My mother had a condo on the Indian River that had a great view of Shuttle launches. So despite NASA discouraging people from coming to watch live I'll be taking a drive over to Titusville to get a good view.
*Bonus Fact: NASA's original plan for the space station was for it to have a near equatorial orbit that matched the plane of orbits of the moon and planets. That would have allowed the station to be a platform for sending missions to the rest of the solar system. But because of budget cuts NASA was forced to partner with Russia and the International Space Station was born. However Russia's launch complexes are far north so in order for both them and us to be able to reach the ISS it's orbit has to be more polar than equatorial. And despite the partnership with Russia we bear the lion's share of the cost of keeping the thing "afloat". The ISS is funded through 2024 however the plan is to keep it going until 2030.