A Florida Gator
Lifetime Member
The article is too long for one post, so I've broken it up into 3 parts. Enjoy.
Florida football has a rich and illustrious history that spans decades, and over that time, there have been some phenomenal quarterback and wide receiver d...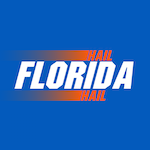 hailfloridahail.com
Florida Football QB/REC Duo No. 10: Chris Leak and Chad Jackson​
Chris Leak: 2003 – 2006 (11,213 career yards passing, 88 touchdowns)
Chad Jackson: 2003 – 2005 (1,586 career yards receiving, 17 touchdowns)
Most people probably best remember Chris Leak throwing to Dallas Baker during the 2006 season, and Baker had 920 yards during the championship season. As a one-time season, it was a great duo.
But during the two years prior to that, Leak teamed up with Chad Jackson to be just as productive.
In 2004, Jackson caught 28 passes for 648 yards and six touchdowns, for an insane 22.3 yards per catch.
He followed that up in 2005 with 88 catches for 900 yards and nine touchdowns.
Had Jackson not left for the NFL after 2005, we might better remember Leak and Jackson. Jackson had a year of eligibility left but wound up being drafted by New England in the second round.
Florida Football QB/REC Duo No. 9: Shane Matthews and Willie Jackson Jr.​
Shane Matthews: 1990 – 1992 (9,287 career yards passing, 74 touchdowns)
Willie Jackson Jr.: 1991 – 1993 (2,172 career yards receiving, 24 touchdowns)
Not to be confused with Jack Jackson, Willie Jackson Jr. was a stallworth for Steve Spurrier's offense and a key cog in the revival of Florida football.
Willie Jackson Jr. is the son of Willie Jackson Sr., who helped break the color barrier for Florida football. In 1991, Jr. had 741 yards receiving and ten touchdowns. Florida went 10-2 and finished 7th in the AP Poll.
He followed that up with another 772 yards receiving and eight touchdowns in 1992. Florida went 9-4, including an appearance in the inaugural SEC Title Game.
He led the SEC in receiving touchdowns both seasons and was top three in receiving yards both years.
In 1993, Danny Wuerffel took over center, and Willie Jackson took a backseat to Jack Jackson, but he still racked up over 600 yards receiving that season.
Florida Football QB/REC Duo No. 8: Doug Johnson and Travis McGriff​
Doug Johnson: 1996 – 1999 (7,114 career yards passing, 62 touchdowns)
Travis McGriff: 1994 – 1998 (2,057 career yards passing, 15 touchdowns)
Following in the footsteps of Danny Wuerffel, Doug Johnson was an adequate QB that often gets forgotten about because his career was sandwiched between Wuerffel and Jesse Palmer.
And it's not like Johnson was a bad QB, but he never topped 56% completion rate and had double-digit interceptions in 1997 and 1999.
In 1997, Johnson teamed up with Jacquez Green, and Green went for over 1,000 yards receiving. But given Johnson had a 55% completion rate that season, it's hard to elevate Johnson in this duo.
He also topped that the following season when he team up with Travis McGriff for a magical 1998 campaign. McGriff finished the season with 1,357 yards receiving, which still holds up as the single-season record for Florida football.
Making that year even more unexpected is that McGriff came into the season having just 700 yards receiving over the course of four years in Gainesville.
The Gators went 10-2 that season, with crushing defeats to Tennessee and FSU to prevent another national championship.
McGriff stills pops into Gainesville from time to time and made an appearance at the Spring Game a few years back.
Florida Football QB/REC Duo No. 7: Chris Leak and Dallas Baker​
Chris Leak: 2003 – 2006 (11,213 career yards passing, 88 touchdowns)
Dallas Baker: 2003 -2006 (2,236 career yards receiving, 21 touchdowns)
As noted earlier, Chris Leak had better career numbers throwing to Chad Jackson. And while we are trying to focus on careers rather than one-season wonders, you can't tell the story of the Florida Gators without including Chris Leak and Dallas Baker.
Baker had 60 receptions for 920 yards, and the duo led Florida to the 2006 BCS National Title.
What makes this duo tough to rank is that beyond the Southern Miss, Kentucky, or Vanderbilt games that season, Baker didn't top 100 yards in any other game.
He did, however, catch a touchdown in nine of Florida's 14 games that season, including one in the National Title game against Ohio State.
Florida Football QB/REC Duo No. 6: Tim Tebow and Percy Harvin​
Tim Tebow: 2006 – 2009 (9,285 career passing yards, 88 touchdowns)
Percy Harvin: 2006 – 2008 (1,929 career receiving yards, 13 touchdowns)
This is another duo that is impossible to try and actually quantify because trying to assign a position to Percy Harvin is next to impossible. He did finish his Florida career with more receiving yards than rushing yards, though he had 19 rushing touchdowns to 13 receiving.
Technically, Louis Murphy had more receiving yards than Percy in 2008, but Harvin was the main receiver for Tebow during the Heisman campaign of 2007.
In truth, both Tebow and Harvin weren't a great duo in the sense that they needed each other to be successful. Harvin probably could have been great with almost anyone under center, and Tebow's strength was more to plow through you than throw over you.
But having both on the field forced teams to decide which man they wanted to sell out on, and the end result was an offense impossible to stop.